And by members, I mean anybody who posts on the forums here at PSMINI.
Some of you may remember that I posted a how-to several years ago about refurbishing your first generation "Clamshell" style key. I've used North American Motoring and other forums that cover a broader geographic area to help other MINI owners and take on some of the trickier refurbishing jobs, for a small fee of course.
I recently got a request to transfer a key into a new style key shell, one where the key blade flips open. MINI didn't make such a key but it was developed aftermarket. I obtained a quantity of shells from "Joan", my contact at the Chinese aftermarket key factory, and did some research about how this process would take place. The original requestor seemingly has lost interest, so here's where you come in: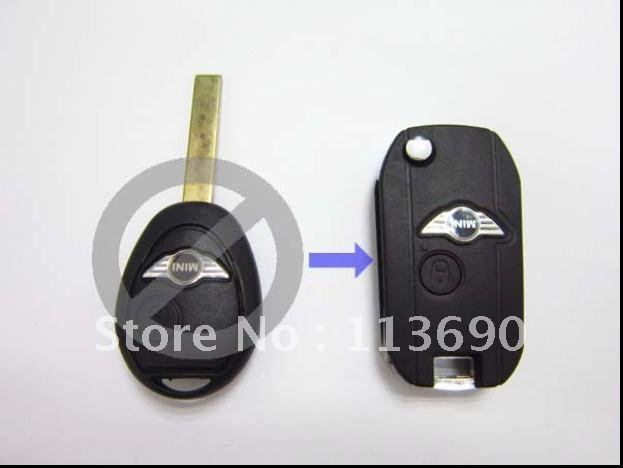 If you have the original style "Clamshell" key (used from 2002-2004 and seen on the left) and are interested in changing it over to a flip-open key (seen on the right) I can make you this special offer:
You will get a flip key shell and a new battery for your remote for my cost and free labor to move your key components into the flip key. This will be very reasonable, however, you will have to pay for the locksmith to cut the flip key blade, since it's not possible to move the blade over. The locksmith has never cut a MINI key but has the specialized cutter to do so. Your price to be my/our guinea pig: $35 plus tax, and you have to be able to come over to West Seattle or lend me your car. Plus, it's risk free- if this blade does not open your door and work your ignition you don't have to pay. If it does, you get a cool new key and can keep your clamshell key to open your doors in an emergency!
I would do this, but I kind of like my clamshell key. I do, however, need to know if this locksmith can cut this style blade correctly before I offer these keys to a wider audience. So if you want to help a growing business (website coming soon!) and get a great deal on this type of key shell, let me know!
OK- so I've had the locksmith here in West Seattle cut a couple of these switchblade style keys and they work just fine. I'll still do the labor for free for PSMINI posters (at least those who can meet me in West Seattle or want to mail it to me and have a Washington State address- no carpetbaggers!). This goes for switchblade or clamshell style keys. You'll only be on the hook for the shell, battery and microswitches if you need them.
Thanks-
Bruce
P.S.- this if for MINIs made between 2002 and 2004 only. If you have the flatter, three button key or the new round fob thing that isn't really a key the components can't be transferred to this style of shell. If you need help with your three button key I have discovered a place that will work on them- contact me for more details.


Edited by valvashon - June/04/14 at 8:49am